Here you will find current news about our money counting products and other interesting news.

The BATTERY - banknote sorting machine!
Only with us you can get the banknote counting machine with accumulator
Never look for the socket again!
Not only the police and authorities, but also slot machine operators, retailers or market people came again and again to us with the wish to equip a money counting machine with battery technology.
We have implemented this in German quality. A high-quality Li-Ion battery was used. An electronic controls the operation safely and energy-saving. The machine switches off automatically after a few minutes of standstill and is ready to start again immediately with a short press on the button next to the display.
Heavy, unwieldy cases that have to be carried with great effort are a horror. Our solution is much handier and lighter than the case for money counting machines.
With its built-in switch and the reject compartment, you are able to count notes even faster!
The really portable sham sorting machine!
This is what you've been waiting for...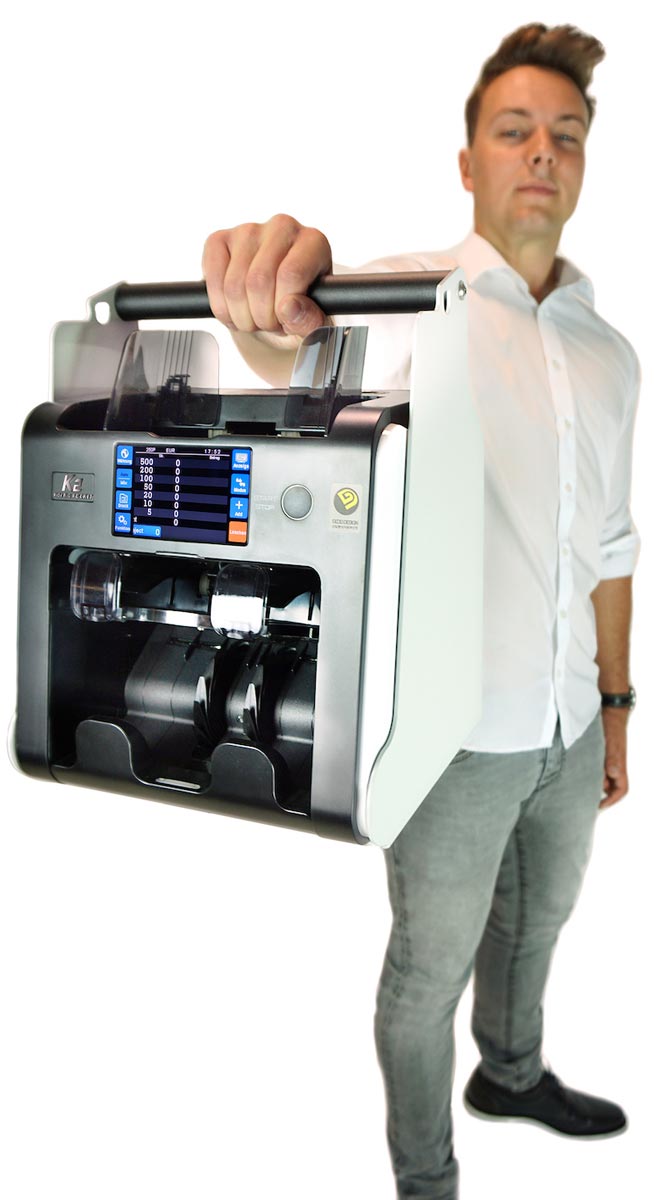 K2 from Kisan is the machine for portable use in amusement arcades, restaurants, betting shops, administration ...
Small, easy to handle. No heavy, unwieldy suitcase that has to be carried with great effort.
With its built-in switch and the reject compartment, you are able to count notes even faster !
Suspicious notes do not stop the counting process. Of course with ECB certified authenticity check.
Also sorting of notes, alignment and much more belongs to the excellent equipped machine. A thick rubber hood secures the machine. Light and effective.
K5 The NEW banknote sorter for the vending machine merchant
The successor of the K-500pro is here!

For arcade operators, casinos, slot machine operators.
In one pass the banknotes are counted, sorted and packed into bundles of 100 pieces each.
There is no easier and faster way. Stacking wheels in each sorting compartment and in the reject ensure that the banknotes are always neatly deposited - a great advantage over many other machines.
Mixed notes are evaluated and immediately deposited in the four freely assignable sorting compartments. The finished bundles can be removed continuously. In a few minutes your notes are evaluated, sorted and bundled. In this version the machine is the most interesting variant for the vending machine industry in terms of price.
From now on! 3 / 5 years GUARANTEE!
Devices from our production last for many years!
We know this from 40 years of experience. The easier it is for us to decide to give a 3-year 100% guarantee on our products!
As well as a 5 year warranty on our transport brushes!
That means...
If you have a defect on the device within the 3 years which is not due to wear and tear we will organize
on request a collection and repair the device within 48 hours.
The transport brush is our coin-operated conveying element, as with some other devices of the rubber belt.
In contrast to the belt, our brush will last for years! 5 years are guaranteed!
ECC - Quality that counts
ECC3000 the fastest money counting machine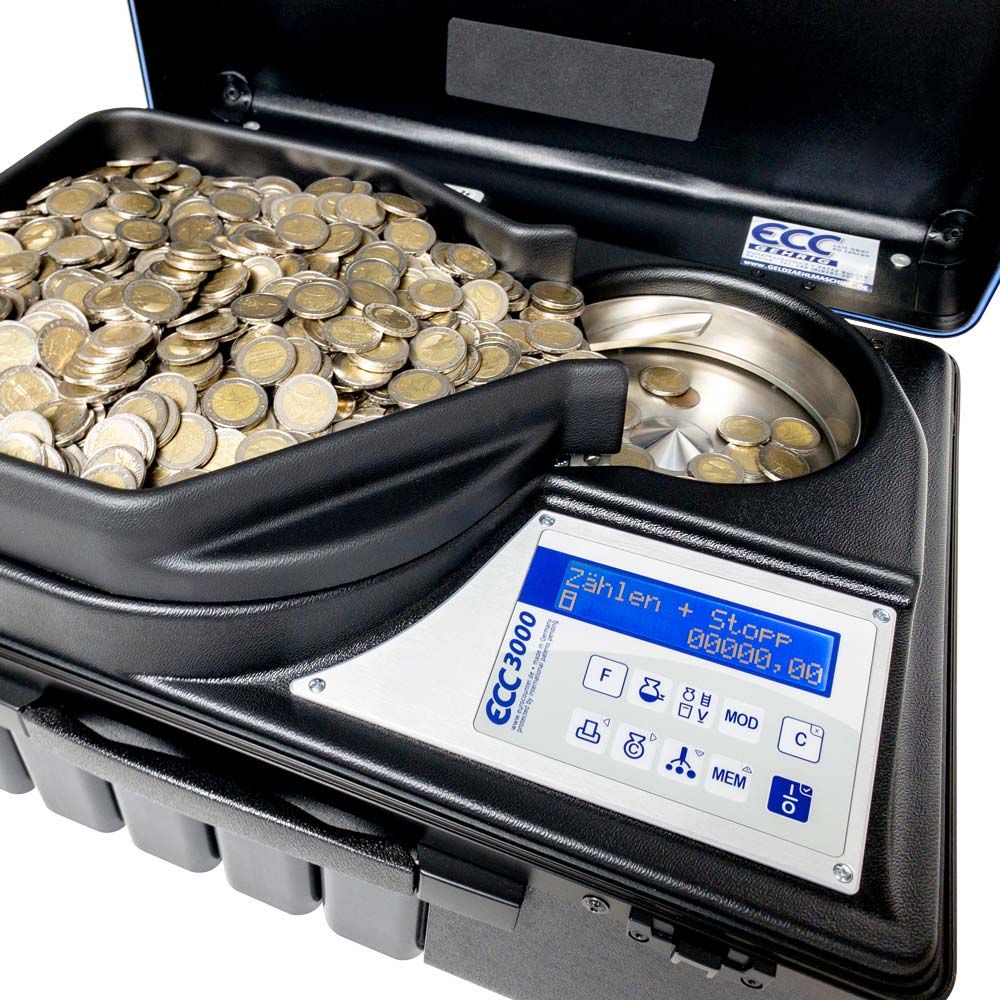 The fastest counting machine with brush technology! Up to 3.000 coins/minute!
Our fastest machine is coming: counting, sorting, bagging, bagging at incredible speed, with trolley function.
Why carry when you can roll?
stable case • large chute • multi-line display • interface for printer...
Request further information here
Download ECC3000 Data sheet (German)
Any number of displays can now be operated via radio on ECC machines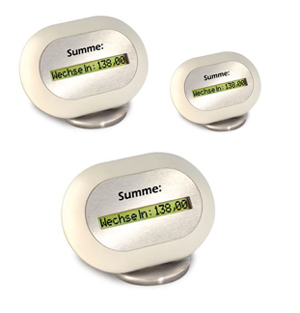 We have already integrated the technology that will enable wireless networking at a later date and thus the control of all your cash processing operations.
Several displays and devices can be combined
Can be positioned within a radius of 20-30 m
Use your ECC money counting machine not only for cashing, but also behind the counter of your venue. The customers' hard cash winnings are counted within seconds.
No annoying connecting of the display. If you come within reach of the display, it shows the counted amount.
Discreetly usable, as it is independent of location.
Power supply via plug-in power supply unit or battery as an option.
World novelty

High quality money counting machines together with the latest Li-Ion battery technology:
Counting with a charge of over 50,000 notes
Automatic switch-off
Only 400 gr extra weight
Transport bag available
Finally a machine that delivers what it promises, especially when it comes to the hard work in the touring vehicle.